AS9100, ISO9001, J-STD-001, IPC-A-610 CERTIFICATION
AS9100 & ISO9001 Certified
Accu-sembly is proud to acknowledge its certification in accordance to AS9100 & ISO9001 standards. We have a quality management system in place that is based on our quality policy statement: "Total Satisfaction through Quality Performance." Thus, our annually internally and externally audited quality system is here to provide you with the best product possible.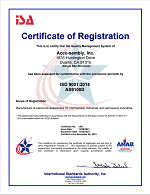 IPC-A-610
"IPC-A-610, Acceptability of Electronic Assemblies is the most widely used standard published by the IPC. With multiple language versions, it has an international reputation as the source for end product acceptance criteria for consumer and high reliability printed wiring assemblies." ©2010 IPC — Association Connecting Electronics Industries.
Certified Lead Free
Accu-sembly, Inc. meets compliance standards for the Restrictions of Hazardous Substances (RoHS) with the use of lead-free components and products. This keeps our employees safe, and your products safe for consumers.